As promised - we are coming out with our oils....these are essential oils....not perfumes....100% oils....and they have been welcomed at the craft shows and fairs that we have been at.....
We hope you will welcome them here as well.....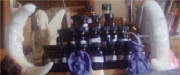 OILS AND HERB WARNINGS
If you are epileptic avoid these oils Rosemary, sage, bitter fennel, hyssop Photo Toxic oils (meaning it increases the skins ability to tan and can cause sun burn) Mandarin, Tangerine, Orange, Patchouli, lemon, lime, grapefruit. Bergamot A few of the TOXIC oils-Rue, mugwort, basil, pennyroyal, thyme, Do not use when PREGNANT WARNING! -Bitter Fennel, Hyssop, Myrrh, marjoram, avoid using pennyroyal, this is not the complete list! All because something is natural does NOT mean it is safe. . BEFORE GIVING ANY HERB TO CHILDREN consult a Dr., as with all types of medicine or herbal remedies consult a Dr. if you are pregnant or nursing
I got a request by a friend who is not used to oils or herbs to include this on my web page. I can also give advice on how to use an oil and wear to apply it most effectively if you send me an e-mail. Most people are: ok I got this oil- now what do I do with it? That's why I have included these paragraphs on the herbs. I am more used to dealing with people who are famaliar with oils and herbs and how to use them....so please ask any questions....they are free and don't mean that I expect you to purchase something! I'd rather lose a sale than a customer!
Essential Oils What Are They Good For?
Essential oils have many properties and each oil can help in several different areas. These are not the only essential oils that can be used, it is just a very small guideline.
Abscesses/Boils: basil, chamomile, clary sage, eucalyptus, geranium, juniper, lavender, rosemary, thyme, tea tree
Acne: aspic, calendula,chamomile, juniper, lavender,myrrh, neroli, patchouli, tea tree, thyme
Allergies: chamomile, lemon balm, rose
Anxiety: bergamot, basil, clary sage, cinnamon, coriander, jasmine, neroli, orange, pine, ylang ylang
Asthma: eucalyptus, lavender, lemon, lemon balm, rosemary
Coughs: aniseed, cypress, fennel, niaouli, thyme
Depression: bergamot, basil geranium, lavender, lemon balm, neroli, nutmeg, pine, rose, ylang ylang
Eczema: bergamot, chamomile, geranium, lavender, lemon balm, rosemary
Headache: basil, clary sage, fever few, lavender, lemon balm, marjoram, neroli, peppermint, rose, ylang ylang
Insect Bites: bergamot,lavender, lemon balm, tea tree,
Insomnia: chamomile, lavender, neroili, rose, rosewwod, marjoram, sandalwood
Menopause: clary sage, cypress, geranium, lemon balm
Sore Muscles: ginger, juniper, mint, nutmeg, peppermint, pine, rosemary, thyme
Nervousness: bergamot, coriander, fennel, lemon balm, marjoram
PMS: chamomile, clary sage, marjoram, neroli, ylang ylang
Stress: bergamot, clary sage, fennel, lavender, neroli, rose, sandalwood, vetiver
Sunburn: chamomile, lavender
There are many more uses and many other oils....always Check With a Doctor before using herbs and Oils!
Our oils are 100% oil....not scents....they are skin safe....we do our best to make them allergy free....We distill them from herbs grown outside in the gardens or from supplies from friends....
I have a tendacy to refer to oils as a potion rather than an oil for the simple reason that this is how Grandmother did.... it puts some people off....and if you are one....I am sorry...you don't know what you are missing on!