Dakota is hubby's nephew and has a serious medical condition and needs continuous care…..I am making this car and every one you buy will help out his parents….I donate the work– you do the pennies…..thanks! Together we can make a difference!
Cars are $0.40 and weigh 2 ounces and are 1 inch high...the little boy in the picture is the one I am making the candles for! thank you!!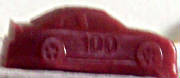 We understand about allergies and people shying away from products because of allergy problems! So we do our best to make our products allergy free....that's part of why I make these products...I myself am allergic to many products out on the market! Yet- unlike some people- not everyone can afford to pay high prices for allergy free products..
Now- no product is 100% allergy free....But I do and have no problems making Beautiful unscented candles for those with allegies! So I hope you enjoy our oils, powders and candles!
Our candles are packaged as soon as they are made to preserve the scent and color...Our herbs are grown as organically as possible! Any questions? Feel free to e-mail us!! We love to talk about what we do!
Need to send a gift and don't have time to wrap it? Have trouble adding a card with your gift? Let us help! you pick out the candle, color and scent....I can make it and we will wrap it with the appropriate wrapping paper and pull a card for the right occasion and print your name on it....we will let you know the shipping charges and ship it for you!
Shipping And Handling For Orders:
please e-mail me directly for a
shipping quote…. click below!
If you would like to have insurance added to your order ….
Please add $1.50 per $50.00
THANK YOU VERY MUCH FOR YOUR BUSINESS!!!!!!!
please click on link above to send order....please include your name- address- phone...and payment method....I can take credit cards through pay-pal.... please include candle name...color...scent...number of each item.... also include any oils or herbs you wish....We usually ship 2 day priority mail.... We will notify you of any delays in shipping..We prefer payment through pay-pal, but will take checks and money orders..don't forget to print and send your order with them!....we try to keep these charges as cheap as possible! Thank you for your business and thank you for looking! Blessed BE!